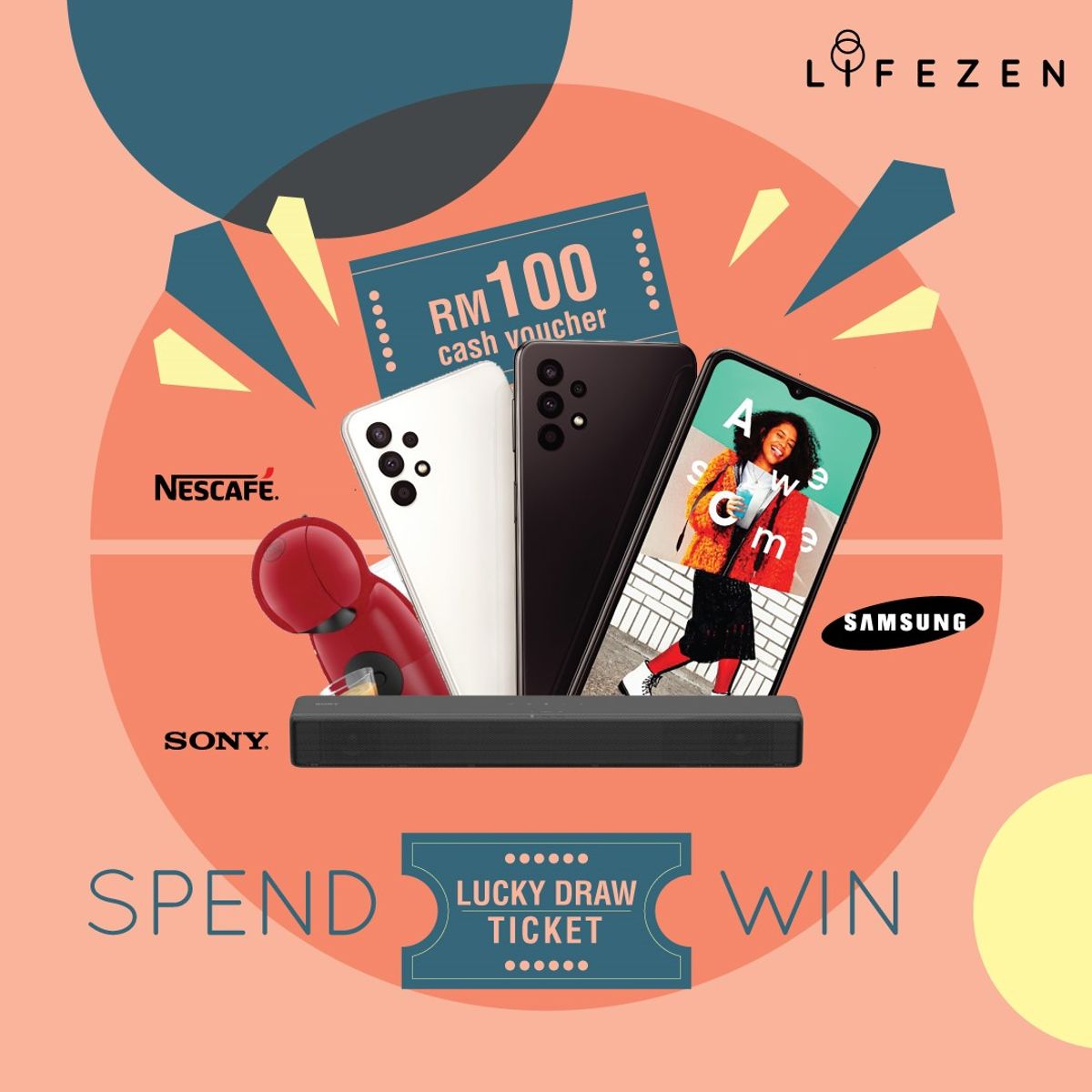 Lifezen product launching with promotional price and fabulous prizes up for GRABS!



Terms and Conditions for "Buy and Win Giveaway".
Introduction:
LIFEZEN "Buy and Win" Contest ("Campaign") is organized by Lifezen Sdn Bhd.("Lifezen"). This Campaign will commence from 1st April 2021 to 31th May 2021 ("Campaign Period"). Lifezen shall reserve the right to shorten or extend the Campaign Period at its sole discretion without prior notice.
Duration:
1st April 2021, 12:00PM to 31th May 2021, 20:00PM.
1. Eligibility
1.1. This Campaign is open to individuals aged eighteen (18) years and above who are residents in Malaysia only.
1.2. Provided that the participation in this Campaign by the residents of Malaysia and the content of these Terms and Conditions are subject to restrictions contained in the laws and regulations of Malaysia.
2. How to participate:
Purchase a Lifezen Dolphin Water Purifier at promotional price - RM1888
Register as a member on Lifezen website with QR code for additional 1 year warranty (Total 2 years)
Scan QR code of google spreadsheet on the campaign banner and key in details to participate in the Lucky Draw
For every 1 Dolphin Water Purifer purchased = 1 Raffle Ticket (can purchase as many units to increase chances)
Lucky winners will be randomly drawn and the winners will be posted on our social media platforms
Follow us on Facebook / Instagram for winner's announcement. Winners will also be contacted through phone.
NOTE: The winner must be successfully contacted within 3 days after the announcement and the prize must be collected within a week after receiving notification from Lifezen. Winners may collect their prizes from their nearest Health Lane Family Pharmacy or arrange for delivery via local logistics company. Failure to do so, the prize/prizes will be forfeited. (Shipping or delivering fees will be borne by the winners)
Campaign winner will be announced on Lifezen Facebook and Instagram on 7th June 2021. Campaign winner shall contact Lifezen (@lifezen.my) on Facebook or Instagram within seven (7) days after the date of announcement. Lifezen reserves the right to reject any contestant at its sole and absolute discretion, without having to assign any reasons whatsoever.
By participating in this Campaign, contestants are deemed to have reviewed, read and accepted the Terms and Conditions.
Individuals who are registered as users on Facebook or Instagram must own an individual public account through which him/her can participate with this campaign.
3. Judging Criteria:
3.1. All participants' Facebook or Instagram IDs will be collected as a lucky draw list.
3.2. The Prizes are as follows:-
(i) 1 x SAMSUNG Galaxy A32 5G (Random color),
(ii) 1 x SONY Soundbar with Built-in Woofer,
(iii) 1 x NESCAFE ® Dolce Gusto® Malaysia (Random color),
(iv) 5 x HEALTH LANE RM100 Cash Voucher
3.4. The prizes will be drawn out by this order:
I. Draw out 5 HEALTH LANE RM100 Cash Voucher.
II. Draw out 1 NESCAFE ® Dolce Gusto® Malaysia
III. Draw out 1 SONY Soundbar with Built-in Woofer
IV. Draw out 1 SAMSUNG Galaxy A32 5G
General
a) The Participant agrees and provides consent to LIFEZEN to the use of any Personal Data as provided by the Participant for the purpose of participation in this Campaign in line with the Personal Data Protection Act 2010, to the extent that any personal data provided shall only be processed and be used by LIFEZEN for lawful purpose directly related to the running of this Campaign including but not limited to the purposes of promotional events, advertising, marketing and any administrative matters to facilitate the management and organizing of this Campaign.
b) By providing personal data, Participant indicates that you have read, understood and agreed to be bound by LIFEZEN's Privacy Policy stated at https://www.lifezen.com.my/legal/privacy-policy. The Participant agrees that LIFEZEN and/or its agent and/or its third-party service providers may contact them by telephone, email or such other method in connection with this Campaign.
c) Winners may be required to participate in a photo taking session during the issuance of the Prizes as collection proof upon collecting the prize.
d) In the event any prizes are being awarded to the participant having provided false or mistaken identity or information, LIFEZEN shall have the right to revoke the participant's eligibility for the said prizes.
e) All prize images are for reference only. Prizes shown and/or represented for the running of this Campaign shall be subjected to availability. Prizes given are non-refundable.
f) Prize winner(s) shall not substitute any prizes won or exchange the said Prizes for money. LIFEZEN reserves all rights in its sole discretion to substitute any prizes (or prize component, if applicable) with one of equal or greater value. LIFEZEN is responsible only for the delivery of the Prizes and is not responsible for the condition, quality and fitness of the said Prizes. Any imposition of taxes, fees, and any other costs associated with the acceptance and use of the Prizes are the sole responsibility of the prize winner(s).
g) By participating in the Campaign, Participants agree to be bound by this Terms and Conditions and LIFEZEN's decisions are final and binding. No correspondence or appeals will be entertained. LIFEZEN reserves the right to the final and ultimate interpretation of this Campaign.
h) In accepting the Prizes, the winner(s) agree to participate and cooperate as required in all editorial activities relating to the Campaign. The winners agree to grant LIFEZEN a perpetual and non-exclusive license to use such footage and photographs, voice, biographical information and/or statements, at any time or times, in all media types worldwide for advertising, trade, publicity and promotional purposes and the winners will not be entitled to any fee for such use.
i) LIFEZEN assumes no responsibility for late entries due to any reasons including, but not limited to, network transmission failure.
j) LIFEZEN shall not be responsible for any losses or damages directly or indirectly incurred by any party including the Participant in connection or arising from acts or omissions or in any way related to this Campaign.
k) The Participant agrees to discharge and release LIFEZEN from any liabilities and claims (including from breach of contract, tort, negligence or any other cause of actions at law or equity) arising out of or in any way connected to this Campaign or to the Participant's entry in the Campaign.
l) The Participant further agrees to discharge and release any third party which is related to and connected with this Campaign, including Facebook and Instagram, from any liabilities and claims (including from breach of contract, tort, negligence or any other cause of actions at law or equity) arising out of or in any way connected to this Campaign or to the Participant's entry in the Campaign.
m) By entering into this Campaign, the Participant agrees to indemnify and hold LIFEZEN and the LIFEZEN Group of Companies, their officers, directors, shareholders, predecessors, successors in title, employees, agents and representatives harmless from any claims, losses, damages, liability, claims or expenses (including any legal fees), suffered or incurred by LIFEZEN due to or in any way arising from this Campaign.
n) If Participants are discovered to be using or have used improper means to participate in this Campaign, LIFEZEN reserves the right to cancel the eligibility without notice including without hesitation, the commencement of legal proceedings under the full extent of the applicable laws.
o) This Campaign and the Terms and Conditions herein shall be governed by the laws of Malaysia.